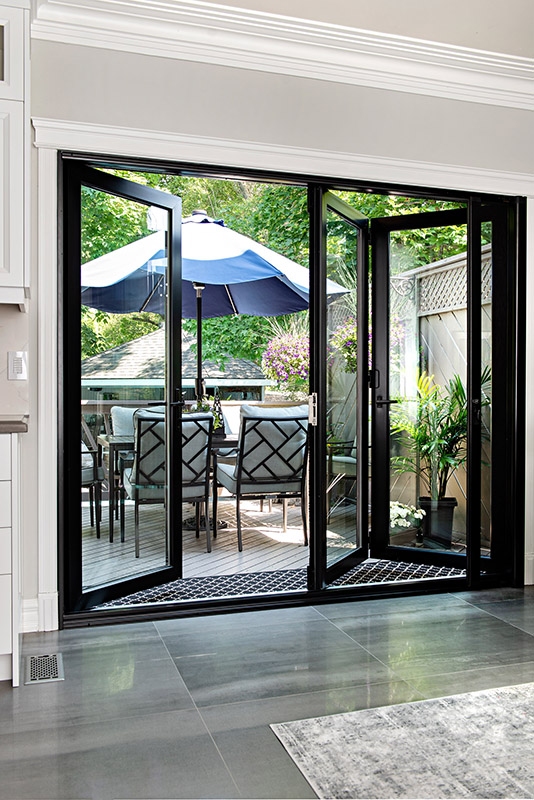 Living in a small space can be challenging, especially when you want to maximize your living area and still have a seamless connection with the outdoors. If you are looking for a solution to transform your small living space, bi-folding doors could be the game-changer that you desperately need. Bi-folding doors are designed to be stacked neatly to one side or both sides revealing a wide, uninterrupted opening. They enhance your indoor and outdoor living without losing space, and they're perfect for making small living rooms, kitchens, and patios feel more spacious and bright.
Here are just some of the benefits you can expect when you invest in bi-folding doors:
A seamless connection between indoor and outdoor spaces.
Bi-folding doors are incredibly versatile and can create an instant link to your outdoor living area. With their clean, modern look, bi-folding doors allow you to enjoy the natural light, sunshine, and fresh air while maintaining the comfort and warmth of your home. They also provide easy access and a smooth transition to outdoor entertaining areas, such as patios or decks, and this is where they truly come into their own. You can fold them away to create a seamless open space or close them up to create distanced living spaces.
Space-saving and flexible design.
Bi-folding doors are ideal when you have minimal space in your home, as they require minimal swinging space, unlike traditional hinged doors. They stack neatly to the side, creating a wide opening that exposes your view without taking up precious indoor or outdoor space. You can also choose the size of many bi-folding doors, giving you added flexibility to fit your unique space.
Natural light and ventilation.
Living in a small space can often mean minimal natural light and ventilation. Bi-folding doors can bring plenty of natural light into your living areas, making them feel bigger and more inviting. The ample ventilation they provide can also benefit your home's natural airflow, saving you money on your energy bill.
Increased home value.
By installing bi-folding doors, you are not only enhancing your living space, you are also adding value to your home. With their aesthetic beauty, clean lines, and modern design, homes with bi-folding doors generally sell quicker and for a higher price than similar properties without bi-folding doors.
Customizable to fit your needs and preferences.
Finally, bi-folding doors are customizable to fit any homeowner's needs and preferences. You can choose the size and configuration of the door panels, the framing material, and the glass type. With a wealth of options, you can be sure to get the perfect bi-folding doors to suit your style and your budget.

Bi-folding doors are a great way to transform your small living space and create the indoor-outdoor living experience of your dreams. You can enjoy natural light, seamless living, increased ventilation, and add value to your home all at the same time. With an array of options to choose from and professional support from manufacturers, it's time to invest in bi-folding doors and bring a new level of beauty and functionality to your home.
If you are looking to enhance your living space with bi-folding doors, get in touch with one of our Fieldstone Desing Consultants today and find out how we can help!