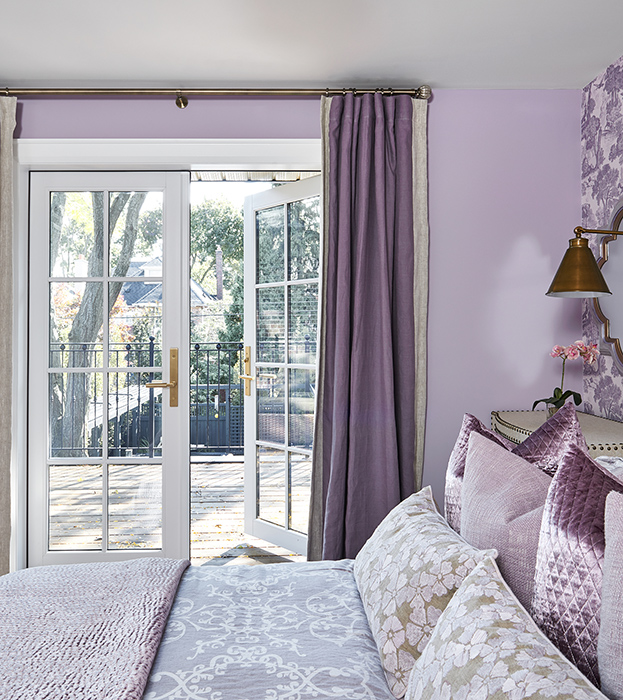 Your bedroom should be a haven away from the hustle and bustle of daily life. After all, it's where you relax, de-stress, and recharge every night. So why not make it a dreamy and romantic escape with French doors?
But first, what are french doors?
They're a type of door that has been around since the 17th century and are still commonly found in homes today. French doors typically consist of two doors that open outward and are divided by vertical glass panes. The glass panes allow for ample natural light and can add a touch of elegance to any room.
While traditional french doors open outward, sliding doors and bi-fold doors can also be designed to have the appearance of french doors. Sliding doors glide along a track and can be designed with multiple panes of glass, while bi-fold doors fold in on themselves and can also feature glass panes. So, even if traditional french doors don't work for your home, there are still options for achieving that classic and chic look.
Adding French doors to your bedroom can instantly transform the space and create a cozy ambiance that feels like a luxurious retreat. In this post, we'll explore the benefits of French doors for your bedroom and give you some tips for creating a stylish and functional look.
Style and Elegance
French doors have a timeless elegance that instantly adds style to any room. Their classic design consists of two large glass panels that let in lots of natural light and create a bright, airy atmosphere. You can choose from a range of styles, including traditional, modern, and rustic, to match your personal taste and bedroom decor. French doors also come in a variety of materials, such as wood, aluminum cladded, fiberglass, and steel, to suit your lifestyle and budget.
Rail and stile french doors are an increasingly popular choice among our clients. Such doors feature a frame with one vertical piece of wood (the stile) that is connected to two or more horizontal pieces (the rails). This design not only adds visual appeal but also provides superior stability and durability. With the option to customize the size, style, and finish of your doors, you can truly make them one-of-a-kind.
Energy-efficient and Soundproofing
Another advantage of French doors is they can help to increase the energy efficiency of your home with the right options such as low-E glass, argon-filled, quality weather strip, and double or triple panes. The glass panels have low-emissivity coatings that reduce the amount of heat loss during the winter and keep your bedroom cool during the summer.
French doors are also available with double or triple glazing, which improves soundproofing and keeps unwanted noise. Adding tempered glass to a french door can enhance its safety and durability while giving it a modern and stylish look.
Aesthetic Appeal
French doors can add significant aesthetic appeal and boost the resale value of your home. They create a seamless transition from your bedroom to the outdoor area, allowing you to enjoy the view and the fresh air. French doors can also enhance the natural beauty of your bedroom by framing views of your garden, pool, or outdoor entertainment area. These doors are also an excellent feature for those who love to entertain and open up their home to guests.
Natural Light
French doors allow natural light to enter your bedroom, making it a bright and airy space. The light that filters through the doors can create a warm and inviting atmosphere, which is perfect for a romantic and intimate setting. French doors also offer a beautiful view of your outdoor space, which can be a calming and peaceful sight to wake up to.
Feeling of Space
French doors can also help to maximize the feeling of space in your bedroom. Unlike traditional doors, French doors open fully, which can create an illusion of a larger space. This is especially important for small bedrooms, as the doors can help to make the room feel more open and less claustrophobic.
French doors can be a great addition to your bedroom, creating a dreamy and romantic escape. They allow natural light to enter your bedroom, maximize the feeling of space, provide added privacy, and add a beautiful touch to your bedroom decor. So, why not consider French doors for your bedroom and transform it into a beautiful, elegant, and romantic space?
If you are considering adding French doors to your bedroom and need guidance on what would work best for your space, our team of experts is here to help. We offer in-home consultations where we can assess your space, discuss your design preferences, and provide recommendations on the best French door options to fit your needs. Contact us today to schedule your consultation and take the first step in creating a dreamy and romantic escape in your bedroom.
As a bonus, be sure to have a look at one of our past projects with interior designer Tracy Kundell. You can see how she used french doors in her home's bedrooms to create a beautiful and functional space. We hope to have the opportunity to work with you and bring your vision to life!